AI Content Harvesting without Opt-Out? Goodbye, Zoom!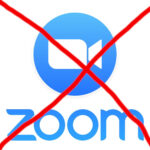 DeepSec has used the Zoom videoconferencing tool since 2020. It was really helpful for the 100% online conferences back then. Apparently, Zoom has changed its terms of service. The new version is completely unacceptable for any conference. This means we are leaving Zoom, and we recommend you do the same.
The reason is the ongoing "AI pandemic". Content is king, but content theft is the emperor these days. If you look at the Zoom terms of services and read chapter 10.4, you see that Zoom likes to use everything you do via the platform for any use the company can think of. There is no opt-out, it seems. We have ended our subscriptions and will delete our account. We will switch to OpenTalk, which is GDPR-compliant and hosted in European data centres. OpenTalk is available via subscription and a self-hosted variant.