BSidesLondon Rookie Track – Personalities, Stories, Presentations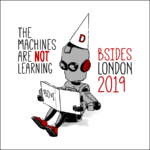 In past articles we have written about the BSidesLondon Rookie Track. We also spread to call for mentors a while ago. Let's talk about the people who will present at the Rookie Track and who haven't spoken at conferences yet. While there exist a lot of helpful advice out there on how to speak, how to prepare, how to structure your presentation, there is one thing that can't be created from scratch – your personality. It defines a lot of what you will be doing on the stage. It will also be a key component of your talk, so you should spend some time to think about this important factor.
Social media, blogs, and discussions sometimes mention the term infosec rock star. This label carries a lot of different meanings. More often than not it describes the negative effects of seeing a show on stage with less content than anticipated. Presenting a topic to an audience is related to the performance of actors. Courses teaching didactics and how to speak to students are frequently held by acting instructors. There is a reason for that. The human mind has its ways of communicating. While technology has made gigantic leaps, there are still humans sitting at the keyboard, in front of screens, and in the auditorium. Good teachers know about the constraints of how to talk to human beings. BSidesLondon captures this fact in the motto for 2019 – the machines are not learning. But people do learn – provided you know how to communicate adequately. Enter your personality.
Watching presentations and seeing how others do it can be a helpful resource. However you cannot copy everything. You can learn methods, ways of speaking, facts, and how to use illustrations. You will always be confined to your personality though. This is not a disadvantage. The first thing you have to do is to find out what type of personality you are. There are some frameworks to characterise the types, for example the coach, the inventor, the researcher, the storyteller, the counsellor, the teacher, and more classifications. All types have strengths and weaknesses. The most important issue is to know about this. Know your limits, and know what you can really do well.
Once you know your personality, or at least its classification, then you can deal with the second most important part of your presentation – the story. Think of all that you have learned. Do you know what all the facts and skills have in common? Most were taught to you by using a story. Storytelling is what gives the facts you want to deliver the red line that ties everything together. If you act as a guide in a story leading your audience from a gentle introduction to the revelation in the third chapter, then you did a good job.