Complexity of Dependencies in Multidimensional Systems – Corona Virus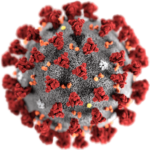 This blog is often silent. Our policy is to publish if there is real information to send out. DeepSec is all about facts. We don't do speculation. Sometimes it is hard to idly watch "news" being published, revised, withdrawn, altered, commented, and even deleted. We, to the best of our abilities, try not to publish something which doesn't hold. But we read and watch a lot or articles, opinion, and other sources. For the rare cases where we need to publish our opinion we have created the High Entropy category in this blog. This category is all about the things we like to discuss. This time it's about biology, containment, and IT security defence. Let's have a look at the current coronavirus.
We are in touch with various partners in different countries. You may have noticed that we plan the DeepSec 2020 and DeepINTEL 2020 events in November. The planning phase usually starts after our break in December. Given our policy you won't notice much of it yet, because we publish when we have something to say. The facts are that DeepSec and DeepINTEL will be on 17/18/19/20 November 2020 as scheduled. Our call for papers is open. You can buy tickets in our tickets shops (one for every event) or by requesting an offer and receiving an invoice for your purchase order. That's the plan. The current events around the spread of SARS-CoV-2 is out of our hands. We can't do much about what measures which individual government puts into place. We can't say if the long chain of dependencies our conferences rely on gets interrupted – and there are a lot of ifs to check until November. Don't forget: The influenza viruses no one talks about are dangerous too. If you are prepared for influenza viruses, then you are also prepared for SARS-CoV-2.
Sticking to the facts is actually the bright side. We created all the facts necessary to plan and to announce DeepSec and DeepINTEL 2020. Since 2007 no DeepSec conference was ever cancelled. We had a close shave with the Lehman Brothers Holdings Inc. crash (which will repeat sooner or later, because nothing has changed structurally in our economy), the eruption of Eyjafjallajökull (we could also talk about future eruptions of other volcanoes which are overdue), and with some efforts by unnamed third parties to make life hard for smaller IT security  events (no conspiracy here, just a collision of plans, apparently). Bear in mind that the global and local economy is not designed to handle failures well. In the context of IT security this is a weakness, but the systems are too big to fix.
So we will keep you updated. However keep your sanity, don't panic, and stick to the facts. There are a lot of far worse threats out there. Chemistry, biology, and physics will keep trying to make our lives miserable. That's part of a blue team's daily grind.