DeepSec 2016 Talk: The Perfect Door and The Ideal Padlock – Deviant Ollam
You have spent lots of money on a high-grade pick-resistant lock for your door. Your vendor has assured you how it will resist attack and how difficult it would be for someone to copy your key. Maybe they're right. But… the bulk of attacks that both penetration testers and also criminals attempt against doors have little or nothing to do with the lock itself!
Deviant Ollams talk  will be a hard-hitting exploration (full of photo and video examples) of the ways in which your doors and padlocks – the most fundamental part of your physical security – can possibly be thwarted by someone attempting illicit entry. The scary problems will be immediately followed by simple solutions that are instantly implementable and usually very within-budget. You, too, can have a near-perfect door and acquire ideal padlocks… if you're willing to learn and understand the problems that all doors and padlocks tend to have.
We asked Deviant a few questions beforehand.
Please tell us the top 5 facts about your talk.
Whole talk is from hard data and facts in the field, not theory.
Everything i show that's wrong immediately gets a fix recommended.
Nothing in this talk costs more than about 200 EUR to fix, often much less.
I am hilarious on stage, but also educational.
I have stopped drinking beer… please only offer me wine or whisky after the talk.
How did you come up with it? Was there something like an initial spark that set your mind on creating this talk?
Yes… we get into the little details so often when it comes to locks and lock designs, but so rarely do i find myself actually picking locks in the field. We typically get into buildings and containers in other ways. So why not talk about that? That stuff is way easier to fix.
Why do you think this is an important topic?
It instantly makes people able to eliminate or dramatically reduce the bulk of their physical weaknesses. It's instantly-digestible, immediately actionable, and cheap to fix.
Is there something you want everybody to know – some good advice for our readers maybe?
Dear god, install Push-To-Exit buttons in your most secure spaces. And install them correctly. I'll show you what i mean in the talk.
A prediction for the future – What do you think will be the next innovations or future downfalls when it comes to particularly your field of expertise / the topic of your talk?
More and more reliance on badge systems and electronic locks will be the norm. And unless badge credentials are secured properly, they are just as vulnerable. And we attack that stuff too 😉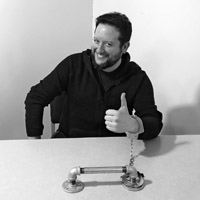 While paying the bills as a security auditor and penetration testing consultant with The CORE Group, Deviant Ollam is also a member of the Board of Directors of the US division of TOOOL, The Open Organisation Of Lockpickers. His books "Practical Lock Picking" and "Keys to the Kingdom" are among Syngress Publishing's best-selling pen testing titles. At multiple annual security conferences Deviant runs the Lockpick Village workshop area, and he has conducted physical security training sessions forBlack Hat, DeepSec, ToorCon, HackCon, ShakaCon, HackInTheBox, ekoparty, AusCERT, GovCERT, CONFidence, the FBI, the NSA, DARPA, the National Defense University, the United States Naval Academy at Annapolis, and the United States Military Academy at West Point.
His favorite Amendments to the US Constitution are, in no particular order, the 1st, 2nd, 9th, & 10th.
Deviant's first and strongest love has always been teaching. A graduate of the New Jersey Institute of Technology's Science, Technology, & Society program, he is always fascinated by the interplay that connects human values and social trends to developments in the technical world. While earning his BS degree at NJIT, Deviant also completed the History degree program at Rutgers University.