DeepSec 2020 Mission Control – Behind the Scenes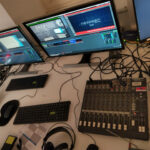 The fully virtual DeepSec conference was very different from the usual configuration and setting. While we learned a lot over the years, there is one constant: What's the difference between hardware and software? Well, hardware can be kicked. There is always one converter, one computer, one network devices, one USB device, or something else that doesn't quite fit into the ensemble. Then there are the many desktop oddities and multimedia formats. So we had to do some damage control during the first day of streaming (having damage control teams and replacement parts ready is not just for ships).
Networking did its own magic by introducing delays between the speaker's feed and the live stream. Fortunately the stream connections held, and we had no losses in terms of connectivity. Mission control at the office used three different Internet connections for the conference set-up (two of them via mobile networks). Monitoring the streams was done via different Internet connections to get view the streams from your perspective.
The hallway track did not really work. We would have loved to get into more contact with you, but overcoming this limitation of virtual conferences is not easy. We know that there are lots of platforms out there that promise everything, but we stuck to the tools we knew. As mentioned in the opening, we created three different organisation plans for DeepSec and DeepINTEL in 2020. The second lock-down came just weeks before the conference, so basically we had to use Plan D.
Confidentiality always gets tricky if you use proprietary code. Parts of DeepSec have roots in the early crypto (as in mathematics, not pointless currency simulations) movement, so having end-to-end-encryption without fancy backdoors or key escrow is at the top of our whitelist for features. Zoom got pretty bad press on their handling of cryptography. We hope their learnt their lesson, but black boxes are black boxes. We will think about a more trustworthy communication system for sensitive content in case we need it for 2021.
We hope you enjoyed DeepSec 2020! As always, we will need some time to post-process the video material. Everyone with tickets and all speakers keep their access to the archived live streams. Our video team will add markers for the presentations, so that you can find the beginning more easily. Once post-processing is done, we will create the DeepSec 2020 collection for all of you.
Stay healthy, and see you in 2021!