DeepSec 2022 has started – two Days of Presentation about Information Security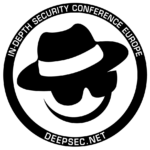 The DeepSec Conference 2022 has started. We will be busy handling the presentation tracks, the TraceLabs OSINT CTF event, and the ROOTS track.
We covered most of the presentations in brief interviews on this blog. There is more to come after the conference has ended. The live streams from the conference are available to registered attendees. The recordings will be published on our video platform after post-precessing. Updates from the event will be posted to our Twitter and Mastodon accounts. In case you want to be part of the conversation, please use the #DeepSec hashtag.