DeepSec 2022 Trainings have started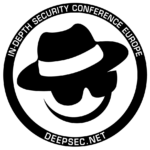 The DeepSec trainings have started. Today is the first day. The topics cover attacking modern desktop applications, network threat hunting, incident response, creating malicious office documents for offensive tests, and secure code review. The spectrum covers a lot of content, and it will be very helpful for defending the information security landscape.
One of our trainings can still be booked. The workshop titled "Web Hacking Expert: Full-Stack Exploitation Mastery" by Dawid Czagan has been postponed to 28/29 November 2022. It will be an online training. You can take part virtually. Bookings are still possible via our ticket shop.