DeepSec 2023 Streaming Tickets available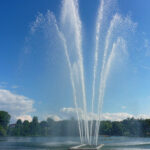 COVID-19 forced us to explore the wonderful world of streaming and to review our video equipment. Since 2020, all DeepSec conferences feature live streams. The processes behind the streams are now mature. This means that you can attend DeepSec virtually. Our ticket shop now has streaming video tickets for you. This ticket allows you to watch the live streams and to get early access to the post-processed presentation videos once we have uploaded them.
The live streams also offer you to get into contact with the speakers by asking questions. You just use the chat function and ask what you want to know. Click and join us!