Rookie Track Registration BSidesLondon – don't miss the deadlines!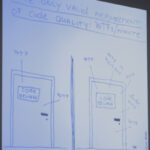 BSidesLondon has opened the Rookie Track registration. Submit your project ideas. Get a chance to present at an information security event. Let mentors guide you to the stage. We are pretty sure that you have something to share with us.
This won't be the last reminder. Deadlines are closer than you think, quite similar to objects in the rear view mirror. We enjoyed many Rookie presentations at BSidesLondon, and your content is valuable to the audience. The fact that seats get scarce very quickly is a good indicator that your contribution should be submitted to the Rookie Track registration before the call for presentation closes.
The best two rookies will get the opportunity to travel to Vienna in November and attend DeepSec 2020. The first rookie can relax and enjoy our conference. The second place requires a bit more work, because we offer to present your content in a full presentation slot (that's 45 minutes). As for the Rookie Track we also offer support and guidance. Don't be intimidated! Everything has to start somewhere. So grab your calendar, mark the deadline, and submit to the Rookie Track registration!