ROOTS Schedule almost ready, mind your DeepSec Training Tickets, DeepINTEL Schedule is coming up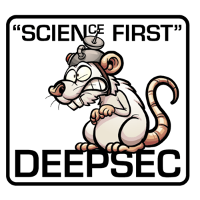 The review process for ROOTS has been completed a few days ago. Proper reviews are hard, this is why it took a bit longer. The accepted papers will be in the schedule at the beginning of next week for we need the redacted abstracts of all presentations. The research topics are worth it, so make sure to check the schedule next week.
For all of you looking for in-depth knowledge and hands-on training – please book tickets for our trainings as soon as possible! This is not meant to rush you. We just want to make sure that you get the training you want. Booking last minute is a sure way of making it hard to plan ahead. Furthermore the first courses are filling up. You might not get a seat if you wait too long.
The DeepINTEL schedule will be sent to interested parties as of today. The topics include drone capabilities (including counter measures), "military-grade" ICT risk management, insights into HUMINT, evaluating data to produce secure intelligence relevant information, and effects of malicious software used for actual attacks on digital communication. If you want to get a detailed peek at the presentations, please mail us.